God Wants Her Religion Back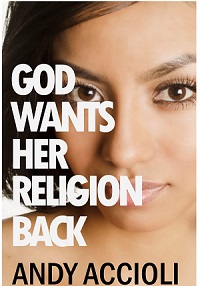 Read now for FREE.
Table of Contents>
General Information
All rights reserved, including the right to reproduce this book, or portions thereof, in any form. No part of this text may be reproduced, transmitted, decompiled, reverse engineered, or stored in or introduced into any information storage and retrieval system, in any form or by any means, whether electronic or mechanical without the express written permission of the author. The scanning, uploading, and distribution of this book via the internet or via any other means without the permission of the author is illegal and punishable by law.
The author's website: http://www.AndyAccioli.com
God Wants Her Religion Back
Copyright © 2016 Andy Accioli
Dedication
This book is dedicated to Kathy, my greatest fan and wife of 38 years (and counting) and to our four children, and our grandson.